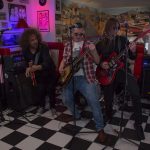 As always, we have prepared a good portion of music for you this year as well.
Friday night will belong to the G.O.C. band which will give us a little fluffy trails in hard rock style.
The band has been touring since 2015 and since their music is full of energy as well as of jokes, ambiguities and allusions, you will like it.