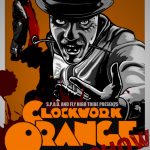 The impossible has become a reality. We managed to merge two suspension crews – The Fly Hight Tribe and SPAD, both of whom will show absolute taboos for ordinary mortals.
What is it all about then?
The Fly Hight Tribe crew have more than 10 years of experience with hanging on hooks which they are happy not to only demonstrate at public performances, but to incorporate those interested in this truly unconventional experience (perhaps somewhere in nature) as well.
The SPAD crew on the other hand, is a community of people that organize various events such as concerts (ambient, dark electro, techno, gothic, or grindcore, etc.), dance performances up to circus performances, starting gracefully with acrobatics on a hoop and ending by truly bloody show.
By merging those 2 crews, we will get a very juicy performance on the stage, in which there will be no shortage of gasps and cries about the impossibility of continuing! The whole evening will be ended by a high hanging.
Believe me, we have a lot to be looking forward to.
PS: All performers are well-trained, experienced and familiar with what they are doing. Generally, as you can certainly understand, such performance is definitely suitable for children. We therefore ask the parents to carefully consider the presence of their children at this grand finale.