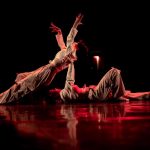 Millions of followers on social networks, hours of hard work on the dance floor, practicing to match multiple voices behind the microphone, perfect costumes, media pressure, fan camps fighting over who is the best – that is the Korean pop, AKA the K-pop to be performed at the Tattoo Session Silesia by the High Shoes duo from Opava.
The South Korean cocktail of dance, singing and fashion has its roots in the 90s, and mixes various elements of pop, electropop, hip-hop and R'n'B. However, its protagonists need to come through years of preparing themselves before reaching the public 👢
Both members of the High Shoes duo, who will perform for us, belong to the Opava dance crew of the Elementary School of Arts under the direction of Lucie Bilíková. Dolley (Adéla Baierová) is a graduate with ten-year experience and Catorine (Kateřina Baierová) with six-year experience, both performing in the theatre or at various competitions – even with a gold award achieved 🤩
You can check their performance either on TikTok, YouTube, or follow them on their Instagram profile.
High Shoes will perform on Saturday afternoon, 7 October – certainly not to be missed. 😍