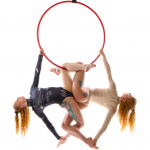 Two talented acrobats, two days spiced up with hot performance high above the church floor. Once a circle, chains the second time – meet Anet and Michaela. 
They have been doing aerial sports and pole dancing for over 4 years and performing together for about 1.5 years. They have met in the Umcircum and been awarded for the 2nd place at the Aerialhoop Open 2023 competition earlier this year. They will perform on Friday evening and Saturday afternoon at the event and there you go – have a check😉
More videos and pictures can be found on their Instagram profile and believe – you truly do not want to miss the show live.