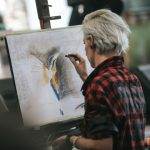 Let us introduce the permanent part of the Tattoo Session programme at the first place – painting live. It looks like a nice artistic fairy tale but if you have ever tried to paint a "Landscape in a Winter Gown", it is obvious that it will not be so much fun – so what will happen then?
We will invite 3 experienced painters / draftsmen on the stage. Everyone wraps up a stand, paper, coloured pastels and let the ride begin. Those artists will get unlimited amounts of time for their works so no need to be in rush at all; but here the scythe falls on a rock – they only get about an hour to create their work with a series of curious eyes behind their backs. Additionally, it needs to be a piece of work that someone really wants to buy – definitely not a present to a friend for a wedding or grandma's birthday (those usually do not complain).
Why do the artists need to try so hard then? Shortly after the work is completed, all the paintings go to auction. We auction them straight on the spot and the amount we get for the paintings is handed out to charity. We have been supporting the Opava Dog Shelter for many years and last year, we contributed to the disabled children from the Opava Four-Leaf
Clover to buy a car for doctors' appointments to be carried to. We will see this year …
This year, based on the request from previous years, we will also bring a small money box for all those who are interested to contribute as well therefore, even if you do not auction a great piece of art off at all, you can help as well. Thank you for such a great tip by the way.
In sum up, come and take a look at this rough artistic discipline and possibly contribute with us.