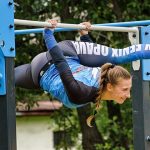 Hard work always pays off. If I want a good figure, brain and stomach at ease, I cannot expect the roasted pigeons flying themselves into… mouth to arrange that.
Nevertheless, can the motivation and self-discipline be learnt?
The beginnings of the Fénix project were mainly about motivating young people as well as about inspiration, healthy lifestyle, training, lectures, exhibitions … Everyone who joined the Phoenix project wrote his / her own story but definitely not a "love story" at all. Generally, every training literally departed the whole crew up to the orbit.
Nowadays, it is more than an inspiration for its members. Hard work helps them to fulfill their dreams and not to give up even in very difficult life situations.
They also support each other and their results are… You will see by yourself shortly.
In summary, there will be a short workout exhibition presented by the Fenix Opava crew on the stage on Friday afternoon and keep in mind that such great spectacle, completely denying all the laws of physics (gravity the most), will engulf you. Come and enjoy it with us.
More about FENIX Opava on their WEB.