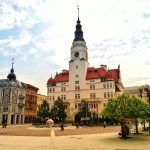 Because Opava is definitely one of the most beautiful cities, we believe that you will spend a great weekend with us 🙂
Let us show you what is worth seeing and where to go after Tattoo Session Silesia ends.
Have breakfast in one of our cafes and take a walk in a park with a coffee…
Visit the oldest Museum in the Czech Republic.
Visit the Gothic Concathedral of the Assumption of the Virgin Mary.
Drive to the nearby castle Hradec nad Moravicí and take a wonderful walk in the park.
Or get some inspiration on websites of the Městské informační centrum and Turistická oblast Opavské Slezsko where you will find a number of tips for trips.
The city of Opava has been supporting our event financially and non-financially for many years (we are grateful for that), and we will be happy if you too get to know our town more than just as a venue of Tattoo Session Silesia.
Enjoy our lovely Opava  🙂