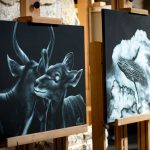 In order to enjoy the beautiful atmosphere of the St.Wenceslas Church in a bit of a different way than only with tattoos, we have prepared the pictures and photos exhibitions during both days of the Session. Who are the artists exhibiting their pieces you can look forward to?
LaPapula – black and white paintings of the painter / tattooer could have been admired last year as well. There is a possibility to witness another of her beautiful pieces to be completed this year.
Martin Kapošváry – known mainly from the Ostrava Fantasmagoria Art Studio. However, only a few people know that he is the author of numerous paintings worth of being seen.
Zdeněk Zelený – photographer and author of concerts and festivals pictures, often published in the Spark music magazine.
Ivet Křenková – photographer with an eye for details who will guide you through the music world from a different perspective.
All authors mentioned above will exhibit their essential pieces only. Those will be found all around the venue not to mention the fact that there will be a chance to chat with the authors themselves and possibly agree to take one of the pictures home.