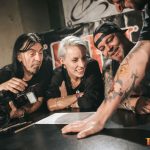 The holidays have already started again and there are ''only'' 3 months left to another – 15th Anniversary of the Tattoo Session Silesia event. The time to reveal the cards has come to get you guys slowly familiar with the programme we have prepared for you.
And because TATTOO SESSION SILESIA is mainly about tattoos and we know, that to decide what will be your new tattoo will take some time, let's look which categories are waiting for you.
The Tattoo competition will take place during both days – on Friday (4 October) as well as on Saturday (5 October).
There will be a single category of the competition on Friday, 4 October – simply called the Tattoo Machine; with no limits for the creativity of all participants. We can look forward to big, small, black and white, fully-coloured, realistic, old school, or new school tattoo machines. Simply said, tattoo machines of all kinds…
Saturday, 5 October will be a bit more interesting in terms of the competition programme prepared. There will be standard competition categories taking place, as following:
Black and White
Colour
Crazy
There will be another two additional categories of the competition on Saturday – the Best of Day and the Best of Show. The Best of Day category is related to the best of day tattoo – the one which will gain the highest amount of points from the tattoo jury. The older tattoos can join the Best of Show category with the condition that a tattoo artist who made the tat needs to be registered at the Tattoo Session Silesia event.
The tattoo jury have not been selected as of yet but we are in progress of selecting appropriate guys … Additionally, there will be brand new award cups made this year as well for the tattoo champions.
Finally, there is one more small bait – there is going to be another tattoo competition to take place on Saturday … The details of the competition itself will be revealed in the following couple of weeks so we will keep you out of details for now. However, we can share the point that the art itself will be left aside this time and you can really look forward to the competition starting from now…
So … let's choose a new motive and look for a tattoo artist who will realize a brand new piece of art on your body …