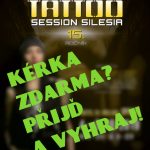 There we go – the wheels of the free tattoo competition are already spinning around. This year, the vouchers prepared and waiting for you are of a total worth of 40 000 CZK and will be handed in to you personally during the event. There were 5 people who got the free tattoos last year and their triumphs could be seen not only at the event itself, but on the official Silesia profile on FB. We have also showed you the progress of the tattoo making as well as the finished piece of art which was really something worth of watching.
Generally, what can you do to win this year? It's quite simple:
Come to the 15th Anniversary of Tattoo Session Silesia and buy a two-day entry ticket
Fill in the a free tattoo competition ticket and place it into the box at the entrance
Enjoy the event and wait for the draw taking place on Saturday, 5 October during the tattoo competition
The conditions include you to take part in the event as well as being present during the draw.
The vouchers are valid for only a period of 1 year, by 3 October, 2020 and you need to come to the studio issuing the voucher itself to book a date.
We would highly appreciate you to share the event with your friends not to mention to invite all the people you know to celebrate with.
We are looking forward to seeing you.