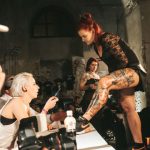 Watching how tattoos are being created from an idea to a finished job is simply beautiful and now, you have the opportunity to peek at the best tattooers right under their hands.
They will spend two days creating often incredible works of art so they deserve to be rewarded for their work with a prize in our competition.But how does it all work?
The competition for the best tattoo certainly does not only evaluate how "nice" the jury sees the final work. Believe us, it is a damn hard job. The jury follows the technique of how it is made (not a picture as a picture), clean lines, colour transitions and shading, how well a tattoo fits the tattooed person, how well it fits in terms of placement on the body and especially, how great the idea itself is.
The time of choosing a design straight from a catalogue – when you stuck your finger between pages full of pictures and said, "I want this," is simply gone forever. We all want to be original, that is why tattoos are made based on a customer's requirements.
This year, the jury will also include professionals from various fields – tattoo artists, photographers, draftsmen and painters, sculptors … simply people who know something about the creation of works of art and can judge it from many different angles.Generally, what categories are prepared for this year's competition then? It will definitely be a real challenge for the tattooers. We will choose the top arts from the following categories:
Maori motives (Maori)
Colour Tattoos
Watercolour / Aquarelle
… for sure we will evaluate the best tattoos of the day and the whole event.
The prize for the tattoo of the day – The Best of Day – a motive that collects the most points in the competition will be awarded accordingly. The best tattoo of the event – The Best of Show category – we will evaluate any tattoo (including older ones) that was created by a tattoo artist who will have a booth at the Tattoo Session Silesia event. It is always an amazing sight.
At tattoo competitions like ours, the tattooers do not have the same space or peace of mind to create parts that he has in the comfort of his studio when creating; therefore, the Silesia event is a great chance to show up his abilities and skills.
Is your tattooer taking part at the 16th-year event this year? Come and support him / her. If not, come for a good dose of inspiration and a show of the best you can see in Central Europe.