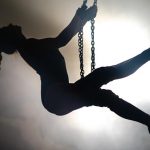 She is beautiful, flexible and we can only dream for a long time what she can do with her body. Saturday night will belong to Bety Moravcova, AKA Akrobetka who will share a great portion of chairdance accompanied by her girls and the chains as well.
It's really hard work since Bety has been performing by using 10 various kinds of tools and you will have a chance to see 2 of them – chairdance (sexy dance with a chair with parts of challenging acrobatics) and a hanger on chains. As always, you will have a great chance to see the choreography, excellently prepared by Bety herself, which will perfectly excel the beautiful curves of a female's body. She has been performing throughout Europe, Canada and has won the International Cup at the Aerialhoop in Estonia this year.
Akrobetka is the owner of Proste se hybej acrobatics school and in case you are interested in the prelude, check out her website. It will be a hell of a hot show.