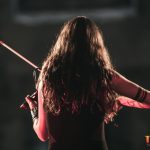 Do you know what rock, crossover, funky and violin have in common? Simply, a phenomenal music witch named Michaela Ripkova.
Her mixture of rough musical genres with a fragile classical instrument, which you would expect more in a theatre than anywhere else, will lift you up from the chairs.
Anyway, who is Dona Michelle to start with?