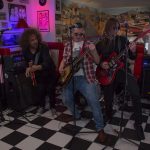 As always, we have prepared a good portion of music for you this year as well.
Friday night will belong to the G.O.C. band which will give us a little fluffy trails in hard rock style.
The band has been touring since 2015 and since their music is full of energy as well as of jokes, ambiguities and allusions, you will like it.
G.O.C. or "Group Of Cocks" (translated as roosters) are from Přerov and performed on big stages – such as Masters of Rock, or at the 115th anniversary of Harley Davidson. Definitely no greenhorns, but a good dose of songs of high quality that you will not be able to leave your head.
Want to check out their video? You can find it on YouTube.
Their website can be found HERE.
Enoy 😉