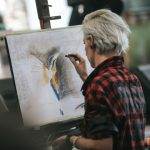 Painting – have you ever tried? For those who have, will surely agree, for those who have not – probably think that it is not fun at all (otherwise, we would have full closet of such paintings at home). There will be no afternoon painting missing this year as well. We will have a chance to look under the hands of 3 various artists who will create 3 great pieces of art straight.
Those artists will be – Honza Tumidajevic from the HNIS Tattoo Studio, Ostrava; La Papula from Inkmatiq Tattoo Studio, Prague; and Bekus from Bekus Art Style Tattoo Studio, Opava. The artists will be limited when speaking about the time – meaning a lot of pressure for them, and we can watch them for the whole time. Nevertheless, the final pieces of art (amazing all years already passed by), will be auctioned for a good cause. The overall profit will be handed in the shelter to support handicapped kids in Detske centrum Ctyrlistek in Opava. We truly believe that you will participate as well and help us out to support the whole event.
 Looking forward to seeing you.