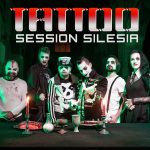 Saturday night will belong to punk rock and who else should be performing at the 15th Tattoo Session Silesia event rather than BABY SECONDHAND. The band has been established back in 2010 by a member of the Bekus Art Style Tattoo Studio – Bart; whose playlist is full of great hits based on life, purely written in Czech. If you haven't heard them as of yet, you can  believe this music is a plain energy and life at full speed.
The band can be seen performing in clubs and festivals all over the Czech Republic, they support projects for children and their performance is one big cabaret. To tune in, check out the video for their latest song TO, shot directly in the St. Wenceslas Church and let the place and music flow you away.
We hope to see you on Saturday, 5 October below the stage. There is definitely something to look forward to.