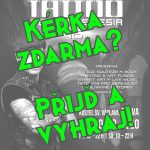 There it is. The wheels of our big free tattoo competition are slowly getting spinned. The vouchers, which we will give away to you, are waiting for you
again this year as well. Last year, you got tattoos of a total cost of 40,000 CZK. All in all, what can you do to make the price land in your hands?
It is pretty simple:
Come to the 16th Tattoo Session Silesia and buy a two-day entry.
Fill out a free raffle free tattoo ticket and throw it into our box at the entrance.
Enjoy the event and wait for the draw to take place on Saturday 10 October during the tattoo competition.
The condition is therefore your participation in the event and, of course, your presence during the draw.
Vouchers are valid for 1 year – so you must stop by in the studio on October 9, 2021 the latest, and book an appointment.
We will be happy you to share our event with your friends and especially, to invite everyone you know to have someone to celebrate with.
We are looking forward to seeing you.