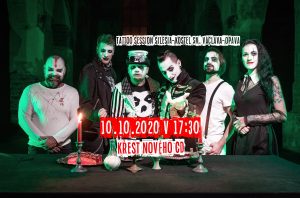 The Opava punk-rock band Baby Secondhand will make the St. Wenceslas church and the audience again. Nevertheless, this year, it will be a very special performance; in addition to great melodic songs, you will sing after the first chorus and will not be able to get them out of your head, the band will release a new record and perform a rare show with special guests.
Baby Secondhand have been performing since 2012 and this year, they have recorded their second record. The first one, called "Strepy" was released in 2014 and by 2019 they had released the singles "Jmeli" and "To", the second single mentioned inspired by Stephen King's horror novel.
Needless to say, the band was founded by one of our organizing studio Bekus Art Style members – Bart, and Bekus sitting behind the drums.
This year's quarantine has been used as a great advantage for the whole band since they managed to complete a new record, its release will take place on Saturday, October 10. However, it will be an extraordinary spectacle! Many great guests have accepted the invitation and they started to prepare not only for the acrobatic show, meaning you have something to look forward to.
You can prepare yourself for the gig and the backing vocals via their profile on BANDZONE.
Additionally, the videos can be checked on YouTube.
We are looking forward to seeing you under the stage on Saturday evening.