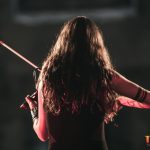 Do you know what rock, crossover, funky and violin have in common? Simply, a phenomenal music witch named Michaela Ripkova.
Her mixture of rough musical genres with a fragile classical instrument, which you would expect more in a theatre than anywhere else, will lift you up from the chairs.
Anyway, who is Dona Michelle to start with?
Apart from the fact that she can do it with the violin perfectly, she can easily play an electric guitar or a bass guitar; as well as not being afraid of writing lyrics.
She has already recorded 11 records with the bands such as Kapriola or Dona Said Yes; with her great idol since the beginning of Linda Perry, a lead singer of the American rock band – Four Non Blondes.
The fact that even Michaela is not a musical virgin can be easily testified by one of her albums called "Animal in Me". Her music can be "tasted" on the Bandzone profiles of both Kapriola and Dona Said Yes profiles to make yourself prepared properly.
How is it going to look like live then? Come and take a look on Saturday afternoon and make yourself surprised.
We wish you a great listening as well as spectacular experience.