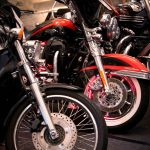 Some things should not be combined, however when it comes to an old church and polished bikes, everything is different – so starting on Friday, 9 October – the church will get decorated with several chrome beauties as has been done during the previous years.
Although Tattoo Session Silesia is not a purely biker's event, this spectacle act has a long tradition in our country and the event itself.
Since the 2nd-year of the event, meeting in Opava's Multipurpose Hall, dozens of our friend bikers have been invited to join every day, until these days when the bikers took rides through the whole Hall and parked their machines in the area itself
Since the biggest catch from the event was always to take photos of those beauties (apart from pictures taken with a bodypainting model) starting from babies up to seniors; we have decided to start taking those bikes to the church as well.
Even though there is not so much space to fit many of them in, the act itself has an undeniable magical atmosphere.
This motorcycle spectacle act is definitely worth seeing so in case you have your own beauty at home, take it for a ride.
We are looking forward to seeing you there.